Auckland is a must-visit destination for adventurers and art aficionados alike. The largest city in New Zealand, it offers stunning views of nature and captivating cultural attractions. Read on for seven must-visit places for your next trip to Auckland.
Mt. Eden (Maungawhau)
Mt. Eden is the highest natural point in Auckland, towering over the city at 196 metres above sea level. Visitors can access the mountain, known by its Maori name Maungawhau, by foot to catch panoramic views of the region. This dormant volcano also features a 50-metre crater from its last eruption, which left a sweeping gulf near the top of Mt. Eden.
The Sky Tower
The Sky Tower stands a colossal 328 metres above Auckland. While the tower is known for the unparalleled views it affords, guests also have access to world-class hotels, gourmet dining, nearly two dozen bars, and a 700-person movie theatre. If you're feeling adventurous, book a ticket for the SkyWalk, which lets you explore the top of the platform, thanks to an overhead safety harness.
Rangitoto Island
The options for entertainment at Rangitoto Island are endless. The outdoor raven features crystal blue waters, dolphin-spotting destinations, and windswept beaches. Island visitors can also access a variety of hiking paths for picturesque views of the region.
One of the most popular attractions at Rangitoto Island is sea kayaking. It is the perfect way to explore the volcanic landscape and get close to some of native animals and birds. Time your kayaking just right and you will be in for one of the best sunsets you've ever seen.
Auckland Botanic Gardens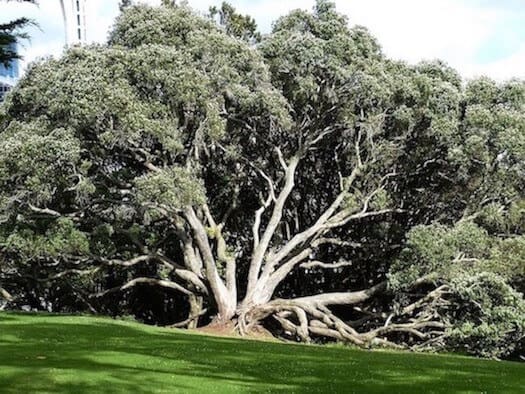 The Auckland Botanic Gardens feature 64 hectares of vibrant plant life and foliage. There is a wealth of features to explore, including the African Plants, Camellia, Conifer, and Edible Garden. The national treasure features an award-winning children's garden, in addition to large outdoor sculptures by local artists. The cherry on top? Admission is free.
Auckland Art Gallery Toi o Tamaki
If you want to learn about the artistic legacy of Auckland, this institution is a must-visit. The Auckland Art Gallery spotlights more than 15,000 works and is New Zealand's largest art museum. The exhibitions celebrate a diverse range of periods and styles, with exhibits including Living Portraits: Mata Raurangi, as well as Guerrilla Girls, In the Listening Light, and Seeing Moana Oceania.
Kelly Tarlton's Sea Life Aquarium
Discover the majesty of aquatic life with a trip to Kelly Tarlton's Sea Life Aquarium. The brainchild of the New Zealand marine diver and archaeologist, the museum features the largest colony of penguins and display of stingrays in the world. Visitors can also witness live shark feedings and take a crack at a cageless shark encounter.
Auckland War Memorial Museum
The iconic Auckland War Memorial Museum serves as a concreted collection of nearly two centuries of New Zealand history. The museum has some of the country's most historically significant manuscripts, archives, and botanical features. Be sure to check out the extensive array of artifacts documenting the Maori and Pacific cultures of Auckland.
If you need professional house cleaners in Auckland, give the My Maid team a call today.